Motorists warned of delays during Belfast roadworks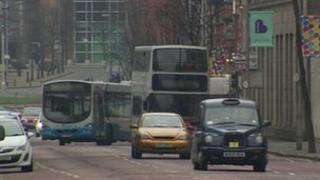 Motorists using Belfast city centre are warned to expect delays in the coming weeks due to a series of roadworks.
New bus and cycle lanes are being introduced and additional pedestrian crossings are to be erected.
The aim of the scheme is to encourage people to abandon their cars and either use public transport, cycle or walk.
There will be off-peak lane closures and restrictions during the work which will begin shortly and last until the end of July.
Priority
The city centre roadworks are part of the Department for Regional Development's (DRD) ongoing Belfast on the Move masterplan .
It will give higher priority to public transport, pedestrians and cyclists.
The department said about 30,000 vehicles use the streets on either side of Belfast City Hall every day, but 60% of them are through traffic with no destination in the city centre.
It is urging those motorists to use alternative routes or allow extra time for their journey.
It advised drivers who travel from east Belfast through the city centre via May Street and Howard Street to consider using the M3/Westlink or Dunbar Link instead.
DRD's director of transport projects, Ciaran de Búrca, said: "This is the first step in delivering a city centre where access by public transport is given a much higher priority and the street environment is tailored to the needs of pedestrians and cyclists rather than the private car.
"Belfast on the Move will help over 40% of households in Belfast who do not have access to a private car and therefore rely on public transport.
"More bus lanes mean public transport will be quicker and more efficient," he said.