Owen Corrigan tells Smithwick Tribunal of Donaldson 'rogue garda' claim fears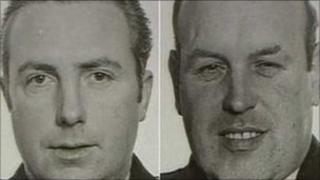 A retired Dundalk garda has accused Jeffrey Donaldson of putting his life in danger by naming him in the House of Commons as a rogue officer.
Owen Corrigan told the Smithwick Tribunal the MP had sought to ensure his "fate would be similar" to that of Pat Finucane.
The Belfast lawyer was murdered months after a Conservative MP claimed, under parliamentary privilege, that some solicitors in Northern Ireland "were unduly sympathetic to the cause of the IRA".
Mr Corrigan said: "Jeffrey Donaldson set out to achieve the same modus operandi as his predecessor in the House of Commons.
"I was in a very, very vulnerable situation."
The retired garda also said that "organs of the British government" had decided to blame him for the murders of Chief Superintendent Harry Breen and Superintendent Bob Buchanan.
He said there was a "political undertone" to matters before the tribunal.
Mr Corrigan was speaking on his second day of giving evidence to the tribunal, which is investigating allegations of garda collusion with the IRA in the murder of the two officers in 1989.