Stormont to host Diamond Jubilee party for 10,000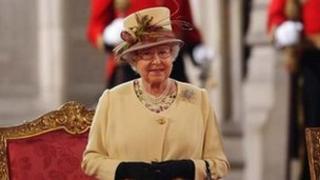 Ten thousand people are to be invited to a huge Diamond Jubilee party when the Queen visits Belfast.
The event will be held in the grounds of Parliament Buildings, Stormont, on 27 June, the Northern Ireland Office has announced.
Representatives from youth organisations, the emergency services, government departments, local councils, health trusts, ex-service associations as well as education and library boards are also being invited.
Members of the Northern Ireland Assembly, including the First Minister Peter Robinson are expected to attend the event.
There has been intense speculation that the Deputy First Minister Martin McGuinness may meet the Queen during her visit to Northern Ireland.
However a Sinn Fein spokesman said the decision to hold a Jubilee event in the grounds of Stormont had not been an Executive decision.
The spokeman said speculation that the deputy first mininster would attend the event had been news to Mr McGuinness.
Details on how the 10,000 free tickets are to be distributed to the public will be released soon.
Support
The Queen is due to arrive in Northern Ireland on 26 June with plans to visit Co Fermanagh.
First Minister Peter Robinson welcomed confirmation of the event.
"This will be a fantastic celebration of Her Majesty The Queen's reign in Northern Ireland. It is fitting that such a celebration should take place in the Stormont estate," he said
"In the last number of days, we have seen a clear demonstration of the level of support which exists right across the community for Her Majesty.
"In the past week, street parties took place in cities, towns and villages and now celebrations will culminate with the Queen's Diamond Jubilee visit to Northern Ireland.
"The Jubilee event at Stormont will be an historic and unparalleled opportunity for the people to express their devotion and appreciation to Her Majesty for six decades of service.
"As this will be an iconic, unprecedented and historic royal occasion we expect there will be exceptional demand for tickets."