Suspended sentence for police officer who made up statement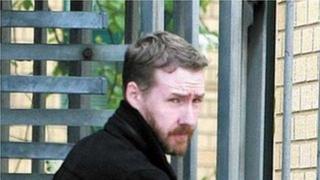 A police officer who fabricated a witness statement to cover up his own inadequacies has been given a one year prison sentence, suspended for two years.
Judge Gordon Kerr QC told Gary Rodgers he was "not fit to serve as a police officer".
"You have let down the police, you have let down the public, you have let down the judicial system, and you have let down yourself," he said.
The PSNI has suspended Rodgers, 35.
Rodgers, whose address was given as Ballymena PSNI station, where he served, pleaded guilty to perverting the course of public justice in August last year by inventing a statement from a lorry driver involved in a road accident with a minibus carrying a group of disabled children.
Lied
Judge Kerr said Rodgers had failed to do his duty.
The judge also told the former constable his crime was all the more serious as his initial mistake could have been rectified on any one of a number of occasions, and he not only lied but had then invented a witness statement.
"In fact you invented the whole thing. This behaviour is entirely disgraceful," added Judge Kerr.
However the judge said there was absolutely no evidence that Rodgers was motivated by corruption or for any gain or advantage for himself, nor was it done for any financial gain or to influence any proceedings or to help out a friend.
The judge said fortunately no one suffered any prejudice and no actual perversion of justice occurred to the detriment of any member of the public.
What happened, he told Rodgers, "was totally grounded in your own inadequacies as a police officer".
Earlier prosecution lawyer Chris Sherrard told the court that Rodgers, along with other police, had attended the scene of a road accident in February, 2009, and that he had been designated the investigating officer by his sergeant.
However, while he had interviewed witnesses, including the driver of a minibus involved in the collision, he failed to get a statement from the driver of a lorry, also involved, because he was taken off to hospital.
Reprimand
Mr Sherrard said that eventually, over a year later, following repeated requests from the prosecution authorities, his sergeant asked for all paperwork to be completed.
Rodgers provided a statement made allegedly from his notebook interview with the lorry driver, before confessing he had never spoken to the driver.
Defence QC Laurence McCrudden said Rodgers had already received one reprimand over his work, and when confronted with the possibility of another, he had said the first thing that had come into his head, that he had mislaid the original statement.
Mr McCrudden said that was "the watershed in this case... the fork in the road when Rodgers got caught in the horns of his own undoing".
Rodgers, he said, should have admitted then that he had made a terrible mistake, but instead had "locked himself in by his lie, a lie he would have to run with, and run with, he did".
Mr McCrudden said while Rodgers had "sprung a trap on himself", he had never acted out of any hope of getting financial gain, or to help out a friend, nor was it committed to injure or harm or spite anyone.
In a statement, the PSNI said Rodgers was suspended from duty pending the conclusion of police misconduct procedures.