Irish Euro 2012 chancer hopes to blag his way Croatia game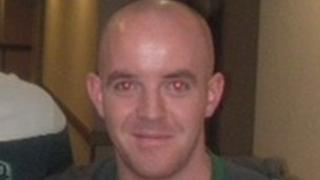 A self-confessed chancer who blagged his way in to see Ireland qualify for Euro 2012 is hoping lightning strikes twice.
Conor Cunningham, 28, from Ballincollig in Co Cork blagged his way past security into the game against Estonia last November.
Mr Cunningham touched down in Poznan, Poland earlier today.
He has no accomodation, no transport and no tickets but is still hoping to see the game.
"I've nothing, basically. I'd flights, obviously, but I've nowhere to stay, no idea how I'll get to where I'm not staying and no way into the match," he said.
"I don't think I can manage something similar. But you never know, it might help me get tickets.
"I doubt I'll be able to pull a major stunt like the last time but I'll think of something. Hopefully people from home will know the face and I might get a ticket off someone who recognises me."
'I'll see when I get there'
Mr Cunningham found himself on television networks after ignoring 600 euro (£485) a head tickets from touts and slipping through security in an Estonian team tracksuit to end up on the touchline of Tallin's Le Coq Arena for the match.
He even took a seat on the Estonia bench during the game. The personal trainer then had the brass neck to soak up the post-match atmosphere on the pitch with a bag of balls over a shoulder and an arm round several of the Irish players to celebrate the 4-0 play-off win.
"I'd consider myself a bit of a chancer but I'd never done anyone like that before," he said.
"This time I'll just have to chance my arm wherever and whenever I can and see what happens when I go to the games - I might even chance my arm with some of the media boys but unfortunately I've had no offers."
Mr Cunningham is travelling with friend Steve Nolan, also from Ballincollig, who has few concrete plans himself.
"I've one or two friends who are going over by camper van already in Poznan and I'm hoping I can jump in with them. I'll see when I get there. I'm just sorted for my flights," Mr Cunningham said.
"I'll have to see what I can dig up when I get there."
The pair are in Poznan until the middle of next week and then Gdansk for two nights where at least one bed is all but guaranteed as Mr Cunningham's brother is due to be in the city.