Police have been attacked during a hoax alert in Craigavon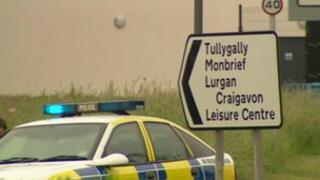 A security alert in Craigavon, County Armagh, has been declared an elaborate hoax.
During the alert youths attacked police investigating the suspicious object with missiles including suspected blast bombs. No injuries have been reported.
The suspicious object was found on the road close to the Lismore roundabout and was examined by army technical officers.
Those moved from their homes during the alert have now been allowed to return.
Earlier police had asked parents to keep their children away from the cordon points.