Donegal fans stranded in Poland after campsite closure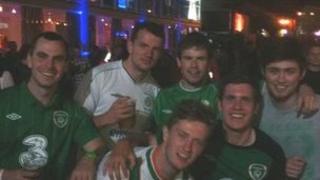 Four football fans from Letterkenny are among dozens of Irish supporters who have been left without accommodation in Poland.
Ronan McLaughlin arrived in Poznan on Saturday night to find the campsite he had booked and paid for was closed.
Ronan and his friends Ross Trearty, Jack O'Doherty and Tony Ryan slept on a concrete floor at an industrial estate on Saturday and Sunday night.
A number of Irish fans have been affected.
Booking.com said it was working with the campsite owners, Hotelioni, to refund customers left without accommodation.
Ronan McLaughlin said it was a shock to arrive and realise they had no where to stay.
"We arrived with all our bags and baggage and were ready to set up camp.
"We realised we not only had nowhere to stay but we had nowhere to keep our belongings safe.
"The first night we slept on the floor of an industrial estate.
"We're still enjoying ourselves though," he said.
Ronan said when they arrived at the campsite there was no one there to advise them what to do.
"No one with any affiliation to the site was there.
"There were just a few security guards to tell us that the site had been shut down.
Ronan said he is unsure if they will get a refund as they had paid for the campsite in full before they arrived.