NI firms' new orders falling fast in global down-turn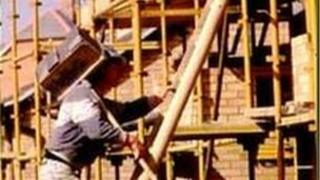 New orders are falling fast in Northern Ireland's private sector and the rate at which jobs are being cut is rising, according to a new report.
The Purchasing Managers' Index - a survey of private sector companies - shows a sharp fall across the board.
Twice as many firms reported a drop in new orders as those who registered a rise.
Business activity fell for the sixth month in a row and the pace of job cuts has risen from April.
"There is no real single weakness. It is weakness across all sectors: manufacturing, retail, construction and services," said Ulster Bank's chief economist Richard Ramsey.
"It is both domestically generated from the property downturn and also from the public expenditure cuts particularly in construction.
"Also, it is a result of external developments and trade - developments in the euro zone etc feeding through to Northern Ireland's exporters."
Mr Ramsey said the latest survey showed firms were reporting the sharpest fall in the prices that they charge for their goods and services.
"There is heavy discounting going on at its fastest rate in 29 months, they are not just cutting costs, they are also cutting costs in terms of staffing levels," he said.
He pointed out that the survey looked at the private sector as a whole and there would always be firms who went against the trend.
In the face of a global slowdown, there was perhaps one positive, he said.
Oil prices have started to fall and this is being reflected in cheaper petrol prices.
The Purchasing Managers' Index is a monthly survey of carefully selected companies in order to provide an advance indication of what is happening in the private sector economy.