Clean-up follows south Belfast flash flooding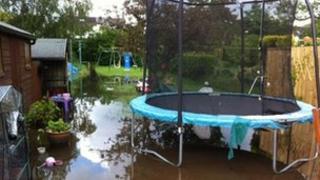 A clean-up operation is under way in south Belfast following flash flooding in the Upper Lisburn Road area.
Sicily Park was closed on Monday afternoon, after storm water blocked the road and flooded gardens.
Up to 20 homes were affected but the water did not get into any of the houses on this occasion.
Residents said the street had flooded nine times since 2008 and the drainage system could not cope with the capacity of water which follows heavy rainfall.
They said said they had been told that there were plans to fix the problem, but as yet the money is not available.