RUAS members to vote on Balmoral show venue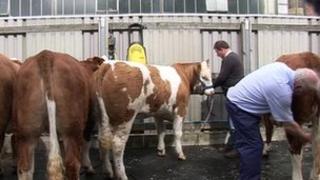 A final decision on the future venue of the Balmoral Show is to be taken later.
Members of the Royal Ulster Agricultural Society are to vote on a move to the Maze site near Lisburn.
The agricultural show has been at the King's Hall showgrounds in south Belfast for more than 100 years.
The debate has been going on for more than 10 years. While more than 3,000 members are eligible to vote, the turnout may well be much lower.
The future of the show could be decided by just a few hundred members.
Some members are opposed to a move which would see the show being staged in the shadow of old prison watchtowers.
However, the society's chief executive Colin McDonald is confident of getting sufficient support for the redevelopment of the showgrounds in south Belfast and a new start for the Balmoral show at the Maze, free of congestion and parking problems.
"It's an important time for the society, moments like this come maybe once in every five generations," he said.
"I am confident that the positivity that the members are already expressing will be turned into a yes vote."