Flash flooding hits Sicily Park in south Belfast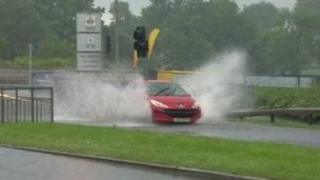 Northern Ireland Water has said it responded to more than 20 flooding incidents during heavy rain on Monday.
The worst-hit areas were south Belfast and Lisburn.
Sicily Park, off Belfast's Upper Lisburn Road, was closed for a time after storm water blocked the road and flooded gardens.
Up to 20 homes were affected but the water did not get into any of them. Roads were closed and traffic affected in Lisburn.
Sicily Park residents said the flooding was a recurring problem, with the street flooding nine times since 2008.
They said they had been told the drainage system could not cope with the capacity of water that followed heavy rainfall.
The residents also said they had been informed that work to fix the problem was planned but the money was not yet available.
In Lisburn's Hillhall estate, Sandra McDonnell's home was flooded for the third time in three years.
"The kids looked out the back and said the back garden had flooded," she said.
"I came down and the whole back garden was soaking. I couldn't get out the front because it had flooded too.
"It was coming under the door, so it's all through the house."
In other parts of Lisburn, roads were closed due to the heavy rain, with traffic badly affected near the city's civic centre.
Heavy rainfall
NI Water said on Monday night that following heavy rainfall in south Belfast, Dunmurry and Lisburn it had responded to "a small number of out-of-sewer flooding incidents".
"Since 4pm we have dealt with 11 reports of blocked sewers and 11 reports of external flooding," it said.
"In Belfast, our crews attended a flooding incident in Sicily Park.
"The sewers were found to be operating normally with no blockages, but the sheer volume of rainfall caused the system to become overwhelmed and the sewers to surcharge."
It said a £35m sewer project in the area was to begin in 2015, subject to funding.
The company said in Lisburn it had dealt with reports of flooding in Ashmount Gardens, Wallace Park and Magheralave Road.
It also dealt with a flooding incident at Greenfield Park in Newry.
"All our sympathies are with the residents affected in what is clearly a distressing experience for everyone," it said.
"Every effort was made to alleviate the flooding in the affected areas as quickly as possible and assist with the clean up operation."