What's behind Sinn Fein's royal angst?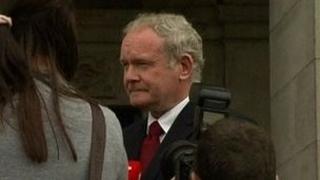 I suppose I should have smelled a royal rat on Friday night.
A Sinn Fein source complained about a news agency report, carried on the BBC website, which linked plans for a big Jubilee party in the grounds of Stormont to the Queen meeting Martin McGuinness.
Ten thousand tickets are being made available for the event, welcomed by First Minister Peter Robinson as "an historic and unparalleled opportunity for the people to express their devotion and appreciation to Her Majesty for six decades of service".
So not exactly Sinn Fein's cup of tea, and my source was at pains to stress that arranging Stormont as a venue hadn't been an executive decision.
News that the deputy first minister would be at the event, the source told me, came as news to Martin McGuinness himself.
Then on Sunday Culture Minister Caral Ni Chuilin followed through on the BBC's "Sunday Politics".
The minister told my colleague Tara Mills that the Jubilee party had been concocted by the NIO and the DUP without consulting Sinn Fein.
Such a move, she maintained, made it more difficult for Sinn Fein to contemplate a meeting with the Queen when she visits Stormont at the end of the month.
Ordinarily, if one party accuses another of deliberately not consulting them about a sensitive initiative, the other side hits back.
But in this case both the DUP and the NIO stayed silent - apparently unwilling to engage in a slanging match which might diminish the chances of an historic encounter between the deputy first minister and the Queen.
Informed sources whispered that it would be "highly unusual" for such a delicate matter not to be run across Stormont's second biggest party - but no-one could be induced to take this argument on to the airwaves.
Boycot
Sinn Fein has been dropping hints for months that Martin McGuinness might be preparing himself to make what is, for an Irish republican, a significant gesture.
Sinn Fein boycotted the Queen's historic visit to the Irish Republic, earning themselves some negative press coverage.
Then, during his bid for the Irish presidency, Martin McGuinness felt it necessary to make it clear that, if victorious, he would meet and greet other heads of state, including the Queen.
Immediately after Michael D Higgins was declared president at Dublin Castle, I asked Mr McGuinness if he would meet the Queen in his capacity as deputy first minister.
He told me he would ponder this - the first of a series of increasingly tantalising indications that Sinn Fein were preparing the ground for such a move.
With the party's annual conference or ard fheis featuring messages about the need to engage with unionists and respect their symbols and traditions it felt like all the choreography was being put in place.
Then came Friday's Jubilee party announcement and the culture minister's complaint.
So what's going on? Potentially Sinn Fein were genuinely taken by surprise with the scale of what's planned for Stormont.
Tensions
There's no doubt the party's relations with the NIO aren't great.
Gerry Adams has personally criticised Owen Paterson and there are strong rumours of tensions between Caral Ni Chuilin and the NIO behind the scenes of the recent Olympic Torch relay.
Alternatively the cynic in me wonders whether Sinn Fein simply want to inject uncertainty into the proceedings in order to create more suspense prior to announcing a positive decision.
The party have long been masters of clever news management.
However other informed sources say there's a real debate within republican ranks about the wisdom of meeting a monarch.
According to this version the political process is more "paper thin" than commentators sometimes believe.
Although on Monday Mr McGuinness repeated Ms Ni Chuilin's criticism of the NIO, he didn't immediately volunteer those comments.
Instead, Sinn Fein sought to shift the media focus from its royal dilemma by concentrating on its MPs' decision to end Stormont Westminster double jobbing.
Sinn Fein insist there still isn't a "doable proposition" and that its ard comhairle or ruling executive will make the final decision.
So we are still left guessing.
However ponder this, Martin McGuinness said meeting the Queen is a "huge ask".
But in recent years he's been proud to take big steps.
Would he be happy if the ard comhairle box him in to what might be seen as a limited, constrained response as opposed to the more expansive gesture he has previously hinted at?