Michaela McAreavey trial told Legends Hotel security staff 'played dirty game'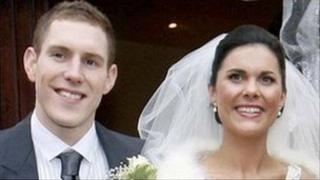 The husband of Michaela McAreavey was wrongly suspected of her murder because of a "dirty game" played by hotel management, a detective has said.
Avinash Treebhoowoon, 30, and Sandip Moneea, 42, deny murdering the County Tyrone teacher in her honeymoon suite at the Legends Hotel in Mauritius.
Detective Yoosoof Soopun said security staff only handed over electronic door readings after "persistent requests".
He said if this was done earlier, Mr McAreavey would not have been arrested.
"I just want to state that hotel management, particularly the chief security officer Mr (Mohammad) Imrit, has played a dirty game with the police," he told the Supreme Court in Mauritius.
"If that information was given earlier to the police, there's no doubt the poor Mr John McAreavey would not have been taken to Piton police station and treated as a suspect by Piton CID."
'Completely broken'
Mr Soopun, who led the investigation into Mrs McAreavey's murder, said he had been astonished when he found Mr McAreavey handcuffed in a police station in the hours after the murder.
He said Mr McAreavey was crying and "completely broken".
"I immediately gave orders to let him go," he said.
The assistant chief of police in Mauritius claimed the management at the hotel had failed to assist detectives but had co-operated with defence barristers.
He said although he "didn't like bringing it up in court", the hotel management's main concern from the outset was to protect its reputation.
When asked why detectives had failed to take statements from a doctor and a nurse who worked at Legends and tried to revive Mrs McAreavey, he said the hotel director had not told police about individuals who would have had access to the murder scene.
The trial continues.