NI students at Republic of Ireland colleges to pay fees from 2013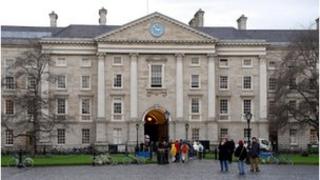 From next year, Stormont will no longer pick up the bill for students from Northern Ireland who choose to study at colleges in the Republic of Ireland.
The Department for Employment and Learning (DEL) currently pays €2,250 euros (£1,810) on behalf of every NI student at university in the Republic.
From September 2013, the grants will be replaced by student loans.
Employment and Learning Minister, Dr Stephen Farry, said it would provide "a more level playing field" for students.
'Inconsistent'
The revised arrangements have been introduced at a time of significant changes in the cost of third level education in the UK and Ireland.
Tuition fees at some UK universities are rising to £9,000 per year.
In the Republic of Ireland, tuition fees were abolished in 1996 but there there is currently an annual college registration charge of £1,810, which is known as the student contribution fee.
For the past number of years, DEL has paid the student contribution fee on behalf of students from Northern Ireland, which effectively meant they were entitled to a free degree in the Republic.
In addition, some were also eligible for a means-tested, non-repayable maintenance grant of up to £2,000 and they could also apply for a full UK student loan to cover their living costs.
Dr Farry said there had been "significant increases" in the Republic's student contribution fee over the past decade.
"It is inconsistent to maintain the current system of providing a full non-repayable grant to cover this charge when students from Northern Ireland studying at home and in other parts of the United Kingdom are expected to cover the cost of their tuition fees, with the majority applying for student loans for this purpose," he said.
Means-tested
The minister explained that students intending to begin undergraduate higher education courses in the Republic of Ireland from September 2013 will be "able to apply for a full loan to cover the cost of the student contribution fee charged by the institution".
However, he also said that under the revised arrangements, more Northern Ireland students would become eligible for means-tested maintenance grant support.
The upper household income threshold will increase from £23,065 to £41,064.
More than 700 students from Northern Ireland enrol each year in universities in the Republic of Ireland.
Preliminary figures from the Republic's Central Applications Office (CAO) have shown that so far this year there had been a 28% increase in the number of UK students who have applied to study at universities in the Republic of Ireland.