Donagh abuse brothers unlikely to ever return to home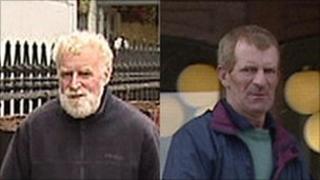 Two brothers at the centre of a sex abuse scandal in County Fermanagh are unlikely to ever be allowed to return to their family home after the Chief Constable was given the power to decide where they will live.
James and Owen Roe McDermott were found to have carried out decades of abuse on young children in the village of Donagh, but were deemed mentally unfit to stand trial.
In 2010 they were allowed to return to their home in the village under a two year Supervision and Treatment Order.
The case sparked a public outcry and the two brothers admitted themselves voluntarily to hospital in Londonderry where it is understood they remain.
There have been fears in the local community in recent weeks that the McDermott brothers were going to leave hospital and return to the family home close to the village playground and playschool.
The BBC has been told that relatives of the brothers living in the village have received death threats.
Power
At Dungannon Crown Court the Chief Constable Matt Baggott applied to have the terms of the lifetime Sexual Offences Prevention Order (SOPO) varied.
The Judge David McFarland granted an additional order that prohibits 63 year old James and 55 year old Owen Roe McDermott from living at an address other than that designated by their risk manager.
This does not specifically ban the brothers from living in Donagh but gives the police the power to decide where the two brothers can live.
It is understood that the family home is not deemed suitable.
Under the original terms of the SOPO the brothers are prohibited from working with children, entering designated areas of Donagh including the playground and primary school, and only allowing access to St Patrick's GAA Club in the constant presence of an approved adult.
Prison
Two inquiries were set up by the Department of Justice and Department of Health to examine how the courts and social services handled the original McDermott case which resulted in a series of recommendations.
A third brother John McDermott remains in prison after his nine year sentence for 35 charges of abuse was extended by six months last year when he was convicted of sexually abusing a seventh youngster from the village.
A fourth brother, Peter Paul McDermott, hanged himself after the start of his trial in 2010.
In his judgement in 2010 Judge David McFarland said Donagh was a village with an appalling secret where the children bore the brunt of the tidal wave of abuse.
The abuse was frequent, regular and presistent and lasted more than 30 years.