Catholic grammar schools top performance list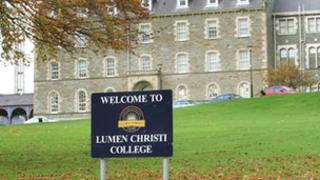 Eight out of the top 10 ranking grammar schools in Northern Ireland are Catholic, according to a list compiled by the Irish News.
Schools were ranked on the highest percentage of pupils achieving three or more A-levels at grades A to C.
In the top slot was St Mary's, Magherafelt, which achieved 95% success in A-levels. This was followed by Lumen Christi, in Londonderry (92%), Our Lady's, Newry (91%) then St Patrick's in Dungannon and St Dominic's in Belfast both with 90%.
In the unofficial league table, published on Wednesday, Collegiate Grammar in Enniskillen was the highest placed non-Catholic school (88%) followed by Friends School in Lisburn (87%).
David Lambon is principal of St Malachy's College in north Belfast (23rd) but he was previously head of St Mary's in Magherafelt.
He said league tables were a mere "snapshot" of the overall picture.
But he conceded that the Magherafelt school had a "tremendous community" to which every school would aspire.
"Whilst we always wanted to do well academically, the focus was always much wider," he said.
"The focus was on the faith development of the children but a very, very strong focus on extra-curricular activities and personal development of pupils.
"In common with many schools, that's really the core of success. It's not a results' driven situation; get the ethos right, get the pastoral care structures correct, involve your parents...board of governors... the excellent teaching staff... those are the key ingredients of success."
He said faith was a very big challenge for Catholic schools.
"Catholic schools are very ambitious for their children in the current climate. There's a renewed optimism in education.
"Every school endeavours to get the best outcome. I don't think you can look at it in a short term period. I think you look at in three to five to seven year cycles. School principals across all sectors... are really engaged in rising pupils performances."
Kathleen Gormley has been head of St Cecilia's in Derry, but will soon be taking over the reins at Hazelwood College Integrated school in north Belfast.
She said: "Children are the same whether in the very north of the island or in Belfast, and my first experience of Hazelwood was that the children were lovely. The difference in schools can be about ethos but it can also be about aspiration.
"Aspiration is a huge driver in children wanting to achieve.
"Maybe, in the past Catholic schools needed to have that aspiration. That world is changing greatly. The other side of the school being successful is that it has huge partnerships."
Retired principal Andy McMorran, formerly head at Ashfield Boys School, said there was more to the list than the religious element of schools.
"If you look at the list there are small schools, large schools, girls' schools, boys' schools, country schools, city schools, and the variation there, it's great to see it. Some of those statistics reflected a fabulous performance by those schools. That's right across the board in Northern Ireland," he said.
"It's a positive thing, let's glorify it. At times too many people are trying to knock this system for whatever reason."
Neil Morton, principal of Portora Royal in Enniskillen which ranked at 21 this year, said there had not been enough research done into education in Northern Ireland and "particularly elements which make up diversity".
He said he assumed the number of Catholic schools so high up the list was down to a "strong sense of identity driven by faith, strong structures in place and a greater hunger, perhaps on the part of the population."