Marion Millican jury hears accused had 'stab' thoughts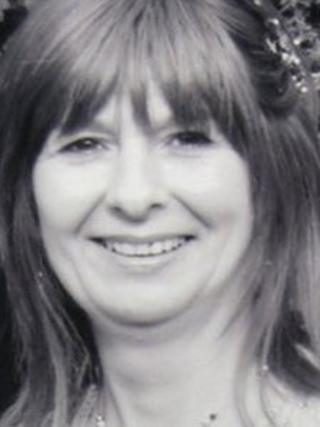 The jury in the Marion Millican murder trial has been hearing from mental health experts who were treating the man accused of killing her, in the months before the shooting.
Fred McClenaghan from Broad Street in Magherafelt denies killing the mother-of-four at her Portstewart workplace in March 2011.
A psychiatric nurse said that during an assessment in December 2010, the accused said he had thoughts about "stabbing" his girlfriend and "overdosing" himself.
He also admitted he had recently assaulted her.
Mr McClenaghan, 49, also told the nurse that he had been ruminating on the abuse he had experienced as a child.
On Wednesday, Antrim Crown Court also heard from a senior social worker who had first met the accused on 24 February.
'Nightmares'
Rodger Park said his former client told him about having nightmares about killing people.
He said he felt Marion Millican had "deserted" him.
Mr Park told the court that a follow-up appointment was arranged for 15 March but that never took place as the shooting happened on 11 March 2011.
A counsellor from the sexual abuse counselling service, Nexus, told the court that the accused had availed of their services in the months prior to the shooting.
Celia Merchant said Mr McClenaghan had been having flashbacks of the abuse he had experienced as a child.
He told her he wanted to be free of nightmares and emotions that were scaring him, he said he was afraid of what he might do.
The trial continues.