UUP members' comments test Mike Nesbitt's authority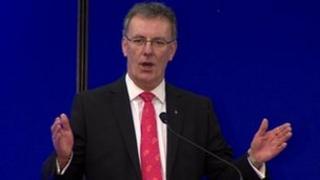 Was John McCallister being humorous or prophetic when he cracked a joke after being trounced by 80 to 20% by Mike Nesbitt in the UUP leadership?
The South Down MLA quipped: "Mike's the one in real trouble."
It was a reference to the popular perception that leading the Ulster Unionist Party is an impossible task.
From the ruling echelon of the unionist monolith the UUP has now shrunk to being a very junior rival to the dominant DUP.
Now if the latest Belfast Telegraph opinion poll is anything to go by, the Ulster Unionists are slugging it out with the Alliance Party for bragging rights to fifth place.
Turning around a long period of internal battles is no easy task.
Ever since Tony Blair turned the Michael Foot/Neil Kinnock Labour Party into a formidable force, it's become common political currency that a party which aspires to power needs to get its activists "on message".
Yet the famously "thran" Ulster Unionists have always been hard to marshal.
The beauty of the party, from a journalist's point of view, is that you can ring any individual member up and he or she will generally give you their view on a particular issue straight and unalloyed.
It's refreshing in comparison to those who won't say anything until the "official line" has been cleared, but an enormous headache for whoever is meant to be determining the party's strategic direction.
Media solo runs
So it's no surprise that Tom Elliott tried to crack down on media solo runs, then got into a tangle with David McNarry about what exactly had been authorised in an interview on unionist unity with the Belfast Telegraph.
That row contributed to Mr Elliott losing his job and his replacement by media professional Mike Nesbitt.
Now Mike Nesbitt's authority has been put to the test, after UUP peer Lord Maginnis picked up the phone to BBC Radio Ulster's Stephen Nolan show and shared his controversial views on homosexuality and gay marriage.
After Lord Maginnis talked about homosexuality being a rung on the ladder towards "deviant" sexual practices such as bestiality, his party colleague Basil McCrea described the peer's comments as "increasingly erratic and ill-advised".
Officially disowned
Then the UUP leader sent a memo to all his members telling them not to speak to the media without getting clearance from the party press office.
Shortly afterwards a public statement officially disowned Lord Maginnis's views insisting he had taken to the airwaves without the party's "knowledge or permission".
The UUP also took action against another party member - Antrim's Adrian Watson - who appeared on the same programme without prior permission to discuss his reservations about power-sharing in council chambers.
Mr Nesbitt faces challenges on numerous fronts - not just getting UUP members "on message" but also establishing exactly what that message is.
Is the party a centrist liberal force, fighting over the same territory as not only the Alliance but also the newly revamped Conservatives?
Or is it a more traditional unionist organisation, leaning towards co-operation with the DUP and sympathising with Lord Maginnis when it comes to morality and "family values"?
Or is it up to individual members to pick and mix their own priorities and policies - in which case why shouldn't they answer their telephones when BBC Radio Ulster is on the line?