McKay Commission in Belfast over West Lothian Question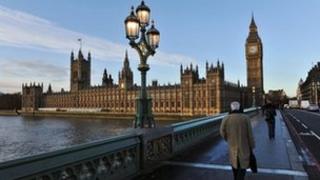 A commission examining possible changes to the voting rights of devolved region MPs at Westminster is holding a public meeting in Belfast later.
The McKay Commission is examining whether the way the Commons deals with laws which apply to England but not the UK's devolved regions should change.
It was created in January to address growing disquiet amongst some English MPs about the "West Lothian Question".
The Conservatives say the current position is not fair.
They believe some action must be taken to address it.
However the DUP, the SDLP and the Alliance Party point out that measures which appear to apply only to England can have financial and other consequences for the devolved regions.
For this reason Northern Ireland's parties are opposing any change.
The West Lothian Question is the dilemma caused by MPs from Northern Ireland or Scotland having a vote on bills which, because of devolution, do not apply to their constituencies.
Alliance says if it must be addressed it should be through extending devolution to England or the English regions rather than restricting some members' voting rights and creating "two classes of MPs".