Belfast airport dismisses BALPA comments as 'utter rubbish'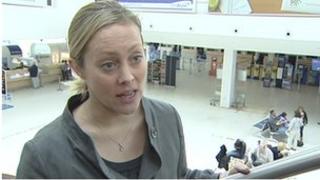 A spokeswoman for George Best Belfast City Airport has dismissed comments from the British Airline Pilots Association (BALPA) as "utter rubbish".
BALPA's general secretary, Jim McAuslan, told MPs it was not sensible for Belfast to have two airports that are just 14 miles apart.
Katie Best from Belfast City Airport said Mr McAuslan was effectively suggesting that jobs be put at risk.
However, Belfast International Airport welcomed BALPA's "professional view".
Mr McAuslan made the comments while giving evidence to the Northern Ireland Affairs Committee, which was examining air links to and from Northern Ireland.
'Irresponsible'
He told MPs that it would be "brave thing" to concentrate resources at one site but added that a decision on whether it should be at George Best Belfast City Airport or Belfast International was a matter for politicians.
However, Ms Best, who is George Best Belfast City Airport's commercial and marketing director, described Mr McAuslan's remarks as "an extremely irresponsible statement, particularly from somebody from that standing".
She said both of Belfast's airports were profitable, privately owned, and employed "a vast number of people".
"Nobody is ever going to suggest that you close down either airport and put thousands of jobs at risk," Ms Best told BBC Radio Ulster.
"In a hypothetical situation where you are talking about only having one airport in Northern Ireland, there would be a debate, yes, to say that a 24 hour airport would be the one that would be sustained but there would also be a very strong argument to say maintain the airport that people prefer to use and that's Belfast City Airport," she claimed.
Ms Best said BALPA's argument was "ludicrous" and "completely irrelevant".
'Competitive'
But Uel Hoey from Belfast International Airport said there should be "an open debate" on the future of airport provision.
"We welcome the professional view of BALPA on what we regard as a vital economic topic for the future development of Northern Ireland," he said.
Mr Hoey argued that the industry was getting "very badly bogged down in theories of competitive value between local airports".
He claimed and the effect was "handing initiative to Dublin airport to steal our lunch and take our potential".
Mr Hoey said it was time to look at how an international facility is served in order to drive the Northern Ireland economy forward.