Doctor tells murder trial Michaela McAreavey died in violent struggle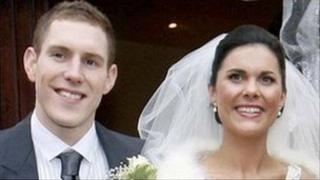 Michaela McAreavey was involved in a violent struggle before her death, her murder trial in Mauritius has heard.
The doctor who carried out the post mortem examination on her body said she died as a result of asphyxiation caused by compression to the neck.
He said her bruises and tissue damage showed this was caused by the grip of a hand to her throat and the pressing of a forearm around her collarbone.
Two hotel workers deny murdering the 27-year-old on the island last January.
Injuries
The teacher from County Tyrone was found dead in her room at the Legends Hotel and the prosecution claim that she was murdered after she interrupted a robbery.
On Thursday, her widower John left the Supreme Court in Port Louis with his family before the chief medical officer took to the witness stand to outline the catalogue of injuries Mrs McAreavey sustained before she died.
The doctor said that it was clear that Mrs McAreavey was involved in a violent struggle and that she had scratched at her own neck in an attempt to remove the source of the pressure to her neck.
Mrs McAreavey's husband found her in the bath of their honeymoon suite and the doctor said there was no possibility that she had collapsed and drowned.
He also confirmed there was nothing to suggest that she had died as a result of strangulation with a rope or a belt.
Former Legends Hotel employees Avinash Treebhoowoon, 31, and Sandip Moneea, 42, deny murdering Mrs McAreavey, the daughter of Tyrone Gaelic football manager Mickey Harte.
The trial has adjourned for the day but will continue on Friday, when it is expected the jury will be shown CCTV footage which was recorded at the Legends Hotel on the day of the murder and footage from the day before.