Paterson says Sinn Fein 'knew broad outline' of Queen Stormont plan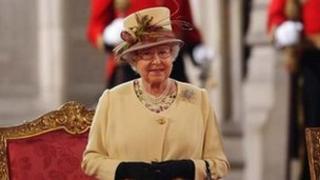 All parties, including Sinn Fein, had been aware of the "broad outline" of plans for the Queen's visit to Northern Ireland before they were announced, the secretary of state has said.
Sinn Fein had said it was "insensitive" of the Northern Ireland Office to announce plans for a huge Diamond Jubilee party at Stormont on 27 June without consulting them first.
Mr Paterson refused to be drawn on whether Sinn Fein's Martin McGuinness should meet the Queen during her two-day visit.
The deputy first minister said on Monday it would be a "huge ask" for any Irish republican to meet the Queen.
"As we speak, we do not have a do-able proposition in relation to this," he said.
The Northern Ireland Office announcement last Friday led to intense speculation about Sinn Fein's role in any such event.
Mr McGuinness was critical of the NIO, arguing that they should have left the matter to the Northern Ireland Executive.
He pointed out that DUP First Minister Peter Robinson's wish to send a gift to the Queen on behalf of Northern Ireland on the occasion of her Jubilee had been handled in a sensitive and diplomatic way.
About 10,000 tickets are being released for the public for the event in the grounds of Parliament Buildings on 27 June.
A further 10,000 people are expected to come as a result of tickets given out to youth organisations, the emergency services, government departments, local councils, health trusts, ex-service associations as well as education and library boards.
Members of the Northern Ireland Assembly, including the First Minister Peter Robinson, are expected to attend the event.