Donegal TD Pearse Doherty takes the strain for Gerry Adams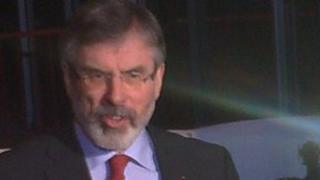 Gerry Adams was due to deliver a speech last night at the Venezuelan embassy in London in memory of Ken Livingstone's former deputy chief of staff, Redmond O'Neill. However the Sinn Fein President had to pull out at the last minute.
On his Leargas blog http://leargas.blogspot.co.uk/ the Louth TD has penned a tribute to Mr O'Neill who he describes as someone who "played an important role in the development of Sinn Fein's uniting Ireland strategy and specifically its outreach into the Irish community in Britain".
Mr Adams also pays tribute to his Dail colleague Pearse Doherty who, he explains "stepped into the breech" and caught a flight to London "with minutes to spare".
What Gerry Adams doesn't say is he had to pull out after straining himself whilst cycling.
For security reasons, Sinn Fein sources won't say exactly where Mr Adams was pedalling to and from, but they explain that he likes to get on his bike whenever he can.
Party sources say Mr Adams isn't badly injured, but his doctor advised him not to travel so soon after apparently pulling a muscle while on his bicycle.
If Mr Adams had to get off his bike, it's clear Mr Doherty had to jump on his in double quick time.
The Donegal TD was caught without a passport or any form of photo ID so had to be issued with an emergency Dail pass to make the flight to London.
However Mr Adams says Sinn Fein officials told him Mr Doherty "really impressed the 150 diplomatic, media and political colleagues and family and friends of Redmond O'Neill" who attended the event, sportingly adding that "he delivered my speech probably better than me".