Smithwick Tribunal: Solicitor denies wanting to frame Owen Corrigan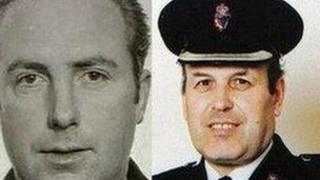 A Banbridge solicitor has been accused at a tribunal of trying to promote evidence to "frame" a former garda.
A barrister for Owen Corrigan accused John McBurney of "travelling the highways and byways of Northern Ireland to recruit and coach witnesses" to give negative evidence against his client.
Mr McBurney is representing Chief Supt Harry Breen's family at the Smithwick tribunal.
He said he deeply resented the allegation and wanted it withdrawn.
The tribunal is investigating allegations of Garda collusion in the IRA murders of Chief Supt Breen and Supt Bob Buchanan in March 1989.
They were shot dead in an ambush as they returned from a meeting in Dundalk Garda station.
The complaint against Mr McBurney was made by barrister Jim O'Callaghan - who is representing Owen Corrigan - during Thursday morning's proceedings.
Mr McBurney said he had made no secret of his attempts to encourage witnesses from outside the jurisdiction to give evidence, though sadly many had not.
Tribunal chairman Peter Smithwick said the observations made by Mr O'Callaghan were "rather harsh" and that it was "going too far" to say he had coached witnesses.
The exchange came following evidence given by a former customs officer in Belfast, identified only as Witness M, who had a discussion with Mr McBurney prior to agreeing to appear before the tribunal.
Witness M recalled a Christmas gathering in Newry police station attended by Owen Corrigan.
Anti-smuggling operation
He said the former garda sergeant was pointed out to him by an RUC colleague who warned him that Mr Corrigan was leaking information.
Witness M was due to meet with Harry Breen the day after his murder on 21 March, 1989 to discuss Operation Amazing - a multi-agency anti-smuggling operation.
As part of that operation, the farm of leading republican Thomas 'slab' Murphy was to be targeted and Harry Breen had been sent to Dundalk Garda station on the day of his murder to discuss the matter with gardai.
A record of a high level security meeting concerned with Slab Murphy's farm shown to the tribunal described him as a smuggler who had been conducting his "illicit business" for some years.
It said he had "thwarted concerted attempts" to tackle smuggling and that additional legislation was needed along with co-operation from the south to "remove Murphy from the map".