Da Vinci exhibition due to open at Ulster Museum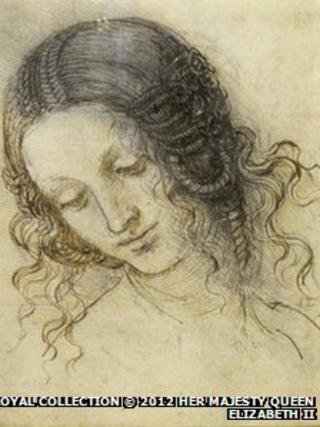 A new exhibition featuring a selection of Leonardo da Vinci's finest drawings will open to the public at the Ulster Museum on Friday.
The ten paintings are part of the celebrations for the Queen's Diamond Jubilee.
It will be the first time works by one of the world's most celebrated artists will go on display in NI.
Five hundred drawings are normally stored as part of the Royal Collection at Windsor Castle.
As well as the famous Head of Leda work, the exhibition includes drawings reflecting Leonardo's interests in painting and sculpture, botany, anatomy, engineering, hydraulics and mapmaking.
The 500-year-old drawings cover Leonardo's interest in anatomy, nature and sculpture, not to mention weapons for war.
The museum said on its website: "Almost all Leonardo's great projects were never completed and it is through his drawings, such as the magnificent examples included in this exhibition, that we gain a greater understanding of his remarkable achievements."
Tim Cooke, Director of National Museums Northern Ireland, said: "We are sure this exhibition will impress both local and international visitors to the Ulster Museum and will greatly enrich our art exhibitions during this special year for tourism.
"Five hundred years on, Leonardo's work continues to command both awe and admiration and we are grateful to the Royal Collection Trust for its partnership, enabling this special exhibition to come to Northern Ireland."
Martin Clayton, from The Royal Library, Windsor Castle, said the drawings by Leonardo at Windsor were the greatest works in the entire Royal Collection.
"They will give the people of Northern Ireland the opportunity to engage directly with one of the most fascinating figures in European culture," he said.
"The previous legs of this tour, in Birmingham and Bristol, have attracted record visitor figures, and I hope that the same will be true of the showing in Belfast."
Anne Stewart, of National Museums Northern Ireland, said: "This is a special exhibition which wonderfully illustrates the profound artistic and intellectual ability of one of the world's most famous men.
"The level of detail in Leonardo's drawings is quite remarkable and he was very much ahead of his time in his understanding of anatomy, hydraulics, cartography and engineering.
"Each drawing in this exhibition offers its own fascinating story and insight into this extraordinary talent and we are sure our visitors will be enthralled by it."
The Leonardo exhibition will be accompanied by a series of events including special tours, lectures, art sessions and sketching workshops. Verbal-descriptive tours for the visually impaired are also available.
The exhibition will be in the Ulster Museum until 27 August.
Admission is free.