Trial of Michaela McAreavey adjourned following heated exchanges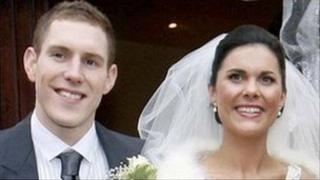 The trial of two men accused of murdering Michaela McAreavey in Mauritius has been adjourned until Monday following heated exchanges between the prosecution and defence teams.
The 27-year-old County Tyrone teacher was found dead at the Legends Hotel on 10 January 2011.
Avinash Treebhoowoon, 30, and Sandip Moneea, 42, deny murder.
The exchanges erupted over CCTV from the hotel on the day of the murder.
Assistant Commissioner Yoosoof Soopun told the court he had not watched any footage from 9 January, the day before the murder, and had only viewed half hour of footage from 10 January.
However, he said when he viewed the CCTV pictures he had not actually seen any photos of Michaela McAreavey.
Mr Soopun later admitted that a couple captured on CCTV apparently arguing in the Legends hotel the day of the murder was not the McAreaveys.
He said the man and woman on screen had been identified as a holidaying German couple.
Mr Soopun said: "I am 100% sure that the couple found at the reception at 15.02 is not the McAreavey couple and I am able to confirm it."
He produced documentation to the court relating to the German couple, including passport copies. It emerged that the police only secured these documents on Friday morning.
He also said staff working at reception also believe it was the Germans in the pictures.
The families of Michaela and John McAreavey have issued a statement saying that it was not them in the footage.
Judge Mr Justice Prithviraj Fecknah adjourned court for the day after the defence asked for further CCTV footage from the hotel to be produced.
'Difficult days'
The judge said while the police witness insisted the couple were not the McAreaveys, defence lawyers contended they were.
He said the exchanges between the defence and prosecution were getting out of hand and called an adjournment to allow "time to calm down".
Earlier, the court saw footage of John McAreavey at the reception of the hotel, wearing shorts and carrying a beach bag at about 15:15 BST on the day of the murder.
The court heard that he looked agitated and was waiting for a key to get into his room.
Police believe Mrs McAreavey was murdered at about 14:45 BST that day.
The court also saw footage of the couple pictured together the day before the murder. Mr McAreavey started to cry and left the courtroom at this point.
BBC Newsline reporter Natasha Sayee, who is in Mauritius, said: "Media interest here is huge, the public interest is huge and that's all because of what we're seeing here today.
"It is not easy viewing for Mr McAreavey today, (it's) probably one of the most difficult days he's had to face in his case so far."
It is understood the defence case is due to begin on Monday. Four witnesses will be called to give evidence.