Property con man Kevin O'Kane has been made bankrupt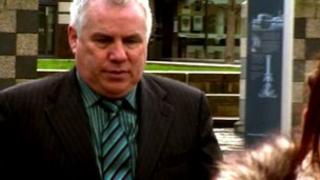 A convicted international property fraudster has been declared bankrupt after civil action was brought by investors duped into paying out nearly £4m.
Kevin O'Kane, from Portglenone, will now have his assets liquidated in an effort to pay back some of his debts.
The action was brought by more than 40 victims of a Turkish holiday home scam.
In February, the 52 year old was jailed for four and a half years for running the bogus operation.
O'Kane, a one-time oil and coal merchant, was convicted of more than 150 offences of obtaining money or property by deception and fraud by false representation.
He portrayed himself as the landowner, builder and developer of the Golden Beach villas development when, in reality, he owned nothing of the scheme.
The legal bid by investors seeking their money back was put on hold until the criminal case was completed.
With the prison term imposed, they returned to the High Court in an attempt to resolve the action.
A bankruptcy order was made againt O'Kane following a brief hearing.
It remains to be seen what cash is available for those who invested in the scam.