Fermanagh's Peter Canavan dismisses Stormont MLA move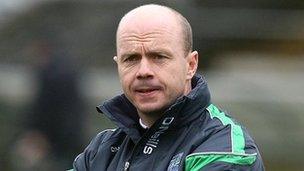 The Fermanagh GAA inter-county football manager Peter Canavan has quashed speculation that he is in line to join Sinn Fein's assembly team.
When questioned about the move Mr Canavan told the BBC that "It's news to me".
He added: "Do you not think I have enough to do looking after the Fermanagh team?"
Four Sinn Fein MLA posts are being filled this month after double-jobbing MPs agreed to quit the assembly to focus on Westminster.
Michelle Gildernew, Fermanagh South Tyrone, Conor Murphy, Newry and Armagh, Paul Maskey, West Belfast, and Pat Doherty, West Tyrone have all vacated their MLA posts.
When it was put to Mr Canavan that Sinn Fein had offered him an MLA job, he replied, "that's not strictly true," and that is was "not correct" that he was heading to work at Stormont.
"The only time I'm at Stormont is when I'm visiting," Mr Canavan said.
It's been whispered however that Sinn Fein regards him as "the ideal candidate."
One source also suggested that a well-known Sinn Fein figure in Fermanagh had been encouraging Mr Canavan towards a political career.
When Sinn Fein's Pat Doherty was fighting for the West Tyrone seat against the SDLP minister Brid Rodgers in 2001, there was a row when Peter Canavan was among GAA figures pictured in a Sinn Fein election newspaper advertisement.
None of the players were wearing their GAA shirts, but Mr Doherty certainly saw it as a big boost having the legendary Tyrone player in the photograph.
"Peter Canavan is known as 'God' in Tyrone," he told me at the time.
Mr Doherty went on to win that race easily, a significant turning point in Sinn Fein's fortunes against the SDLP.
Sinn Fein is set to hold conventions later this month to select the new MLAs who merely need to be nominated by the party under an assembly replacement scheme.
There is speculation that Sinn Fein is interested in another GAA figure in Newry and Armagh, but this individual could not be reached for comment.
The Sinn Fein chairman Declan Kearney has taken on a higher profile of late and his name has been talked about as a possible successor to Martin McGuinness in mid-Ulster. But this is purely speculation at this point.
The Andersonstown News has tipped Rosey McCorley to replace Mr Maskey in the assembly.
The former prisoner was the first republican woman to be released under the terms of the Good Friday Agreement. She was jailed in 1991 for the attempted murder of an army officer and possession of explosives.
She has a a first class honours degree in social science with the Open University, a diploma in Irish with the University of Ulster and a post graduate diploma in Aistriuchan sa Nua Gaeilge with QUB.
Ms McCorley is a political advisor to Sinn Fein and serves on the board of the Community Relations Council. A prominent Irish language activist in Belfast, she also serves on the West Belfast District Policing Partnership as an independent member.