Martin McGuinness drops Queen visit hint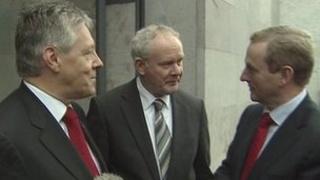 The deputy first minister has given the strongest hint yet that he may meet the Queen on her forthcoming visit to Northern Ireland.
Martin McGuinness said any decision would be about ensuring the peace process was "enhanced and not in any way damaged" by the prospect.
Mr McGuinnness said any decision would be made by the Sinn Fein leadership.
However, he added he had "tremendous respect for the wishes of the unionist community to celebrate the Jubilee".
"From my perspective I will, as always, approach these matters in a very sensible way, recognising the allegiances of others and recognising their right to honour the person they regard as their Queen," Mr McGuinness said.
"Nothing that I will do, nothing that I will say, will be done in any way to undermine the incredible progress that we have made, not just in the north, but throughout this island, and ensuring that we continue to work for reconciliation and will continue to stretch ourselves to understand the important contributions politicians in particular can make in relation to giving leadership to our people."
He previously said meeting the Queen would be a "huge ask" for any Irish republican.
His comments on Friday followed a meeting of the North-South Ministerial Council in Dublin.
It was hosted by Taoiseach Enda Kenny and attended by the tanaiste and the first and deputy first ministers.
Ministers from the Republic and Northern Ireland discussed economic developments in the eurozone and a range of cross-border issues, including the A5 road project.
Mr Kenny reiterated the Irish government's commitment to look at providing additional funding for the road beyond the initial 50m euros contribution in 2015.
When asked about the prospect of an all-Ireland football team following Thursday night's disappointing result for the Republic, the taoiseach, speaking in a personal capacity, said he was a big supporter of the idea.
First Minister Peter Robinson said politicians should stay clear of the issue, and Tanaiste Eamon Gilmore said he would opt for a 4-4-2 formation with a goalkeeper from Donegal.