69 trainers seized from Belfast International Airport passenger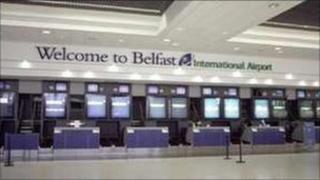 The UK Border Agency has released details of some of the unusual items seized from passengers arriving at Belfast International Airport.
Among the goods taken from passengers were 4kgs of the dried meat product Biltong, 19 offensive weapons, an obscene DVD and 69 pairs of trainers.
When questioned by officers the owner of the brand name shoes claimed she had bought them for her 37 grandchildren.
After contacting the trainers' makers it was confirmed they were counterfeit.
Officers also reclaimed a quarter of a million cigarettes and 100kgs of rolling tobacco from other errant passengers.