Ambulance crew attacked in Poleglass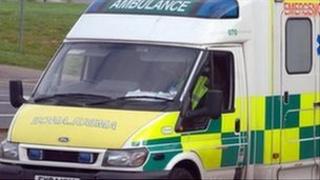 The crew of an ambulance were attacked in Poleglass on the outskirts of west Belfast on Saturday evening.
They were responding to an emergency callout when they were surrounded by a crowd of about 20 people, two of whom were in the front of the vehicle.
More than £500 of damage was caused to ambulance, which had to be removed from service.
The crew had to protect their patient while waiting for the police to arrive. Two youths were arrested.
Ambulance Service spokesman John McPoland said: "I was speaking with the crew this morning and obviously they were very shaken.
"They were aware that the people were of a pretty young age. That's unusual. It's usually people who are in their late teens or early 20s.
"These were all mid-teens and it was just the sheer number of the young people who were there which was the most worrying aspect."