Sinn Fein's Sue Ramsey hits out at Poots blood ban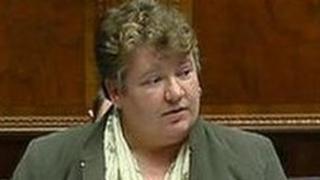 Assembly Health Committee chairwoman Sue Ramsey has criticised the health minister's decision to maintain a ban on gay people donating blood.
Edwin Poots said the results of two new pieces of research had strengthened his position.
Mr Poots wants the ban to apply to anyone who engages in "high-risk sexual behaviour".
Ms Ramsey said there was no need for a ban as a robust blood-screening programme was already in place.
"We are crying out for blood donation... we have had to bring in blood from England, Scotland and Wales because we need it," the Sinn Fein MLA said.
"There are people here willing to give blood and anybody who has given blood, it will be screened, so we shouldn't be going down this line of his own prejudice coming into play."
'High-risk sex'
Mr Poots, speaking on the BBC NI's Sunday Politics programme, said he did not want the ban to apply to gay people only.
"I think that people who engage in high-risk sexual behaviour in general should be excluded from giving blood," the minister said.
"And so someone who has sex with somebody in Africa or sex with prostitutes, I am very reluctant about those people being able to give blood."
Alliance MLA Kieran McCarthy said the minister "needed to realise that it is unacceptable to discriminate like this".
"It is shocking that a minister in our executive is sending out this message. Do we really want Northern Ireland to be portrayed like this?
"This is about equality, by banning gay men from donating blood, Edwin Poots is denying them their human rights. I would ask him to reconsider his decision on this issue."
The full interview with Mr Poots will be broadcast on Sunday politics at 12:00 BST on Sunday.