Michaela McAreavey trial - defence teams drop CCTV footage issue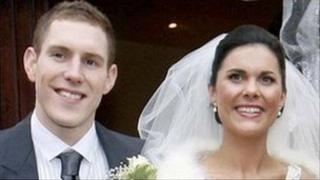 Defence lawyers in the trial of two men accused of murdering Michaela McAreavey have said they will not press the issue of CCTV footage of an arguing couple.
Prosecution and police disputed that the footage was of the McAreaveys, saying it was a German couple also staying at the Legends Hotel.
The footage was shown to the jury at the Mauritius Supreme Court on Friday.
However, the defence teams said on Monday they would not be taking the matter further.
The judge told the jury this meant the identity of the couple in the CCTV footage was no longer an issue for them.
Avinash Treebhoowoon, 30, and Sandip Moneea, 42, deny murdering the County Tyrone teacher in her honeymoon suite in January 2011.
The prosecution has now concluded its case.
On Tuesday, the jury is to visit the Legends Hotel, with the defence expected to begin calling its witnesses in the afternoon.