Maeve McLaughlin sworn in as new Sinn Fein MLA for Foyle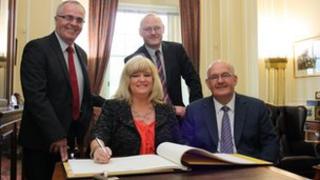 Maeve McLaughlin has been sworn in as the new Sinn Finn MLA for Foyle at Stormont.
She is replacing Martina Anderson who has become the party's MEP in Brussels.
Ms McLaughlin is currently a councillor for the Northland ward on Derry City Council. She is also the Sinn Fein group leader on the council.
Her three priorities for her term in office include the "City of Culture bid, developing tourism and the regeneration of the city."
Speaking on BBC Radio Foyle Ms McLaughlin said: "Whilst I believe that we have many challenges in the city, I believe we have lots of opportunities. I think those opportunities need to be targeted to those most in need.
"We have 51% of the people in this city living in high social need. What I am about is making sure whatever projects come here are directed to those areas.
"Investment in the north west is a key priority for me."
Ms McLaughlin takes up her post with immediate effect.