Former DPP Sir Alasdair Fraser dies following illness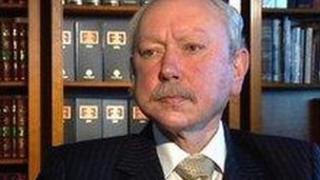 Sir Alasdair Fraser, the former Director of Public Prosecutions in Northern Ireland, has died at the age of 65 following an illness.
Sir Alasdair retired from the post in September 2010 after more than 21 years in the job.
His successor Barra McGrory and deputy director Pamela Atchison paid tribute to Sir Alasdair "for his long and distinguished public service for which he rightly earned deep and lasting respect".
They said he had led the department "with courage and integrity through often difficult and challenging circumstances", and had been "instrumental in overseeing the establishment and rollout of the Public Prosecution Service".
"His legacy will be his significant contribution to the rule of law and building the foundations of a first class prosecution service for the benefit of everyone in Northern Ireland," they added.
Born in Glasgow in 1946, Sir Alasdair moved with his family to Northern Ireland four years later.
Sir Alasdair was called to the Bar in 1970, after being educated at Trinity College Dublin and Queens University Belfast.
He was knighted in 2000 for services to the criminal justice system.