Missing dog's 61 mile adventure from Limavady to Belfast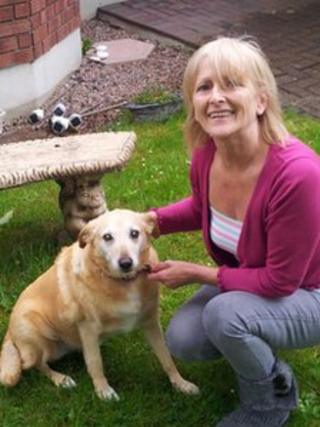 Here's a real life Rover's Return and it's not a shaggy dog story.
Bonny, a nine year old dog from Irish Green Street, Limavady went missing on Saturday June 9.
However, she was found four days later by a Belfast couple along Belfast's Ormeau embankment.
Bonny is a cross breed between a Labrador and a whippet. "I was petrified when I found out that she had bolted out the gate again."
"I didn't think she would've been found in Belfast, 61 miles away from home. That's a long journey for any dog," said her owner Emmarie Smyth.
Missing Dog
"We could probably call her Northern Ireland's most adventurous dog now. My son let her out as usual in the morning and I got up out of bed an hour later to find that she had gone.
"I didn't think too much of it at the time because it's happened before and she has just turned up again.
"After the weekend I was beginning to get really worried. Then a friend of mine heard on BBC Radio Foyle that a micro-chipped dog from the Londonderry area was found in Belfast.
"I soon found out that the dog had a red collar and that the old collar was bitten into. I definitely knew then that it was my Bonny."
Belfast couple, Margaret and Thomas found Bonny on the Ormeau embankment and kept her in their home until she was reunited with Emmarie.
"I have to thank them so much for their kindness. I know they treated her so well and took her for a walk. It's great to know that there are some genuine people out there," Emmarie said.
"It's quite funny to sit back and speculate as to how she got there. It's like something from a film. She could have jumped in the boot of a taxi to go on a journey. She could have got the train from Bellarena to Great Victoria Street, you just don't know.
"I genuinely think that someone picked her up along the road then just decided to let her go at a random spot which is worrying too. I just hope she wasn't snacking out the back of any restaurants or that.
"The funny thing is, only she knows.
"When I got to finally see her again, she wagged her tail and smiled at me. She is so loveable and is always on the lookout for intruders around the house and on the streets. My friend fell one day crossing the main road and Bonny came running straight back to guard her from further injuries. She's a superstar.
"Maybe the next step is Hollywood?"