Minister Sammy Wilson told to "wind his neck in"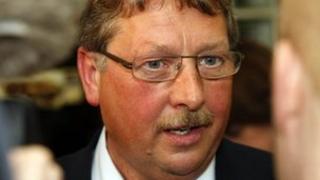 Stormont Finance Minister Sammy Wilson has been told to "wind his neck in" in a row over the Northern Ireland budget.
The comments were made by the chairman of the finance committee, Conor Murphy, after the minister accused the committee of behaving in an infantile manner.
The row centres on a failure on behalf of Mr Wilson's department to deliver budget figures to the committee.
The committee has now refused to fast track the budget, leaving it in limbo.
The cross-party committee of MLAs is tasked with scrutinising the work of the Department of Finance and Personnel (DFP) and was supposed to receive the figures two weeks ago.
Mr Wilson blamed an oversight in his private office for the delay in handing over the information, which contains details of executive spending.
The committee had been amenable to fast tracking the budget bill which is due to take place in Stormont on Tuesday, unlocking billions of pounds in public spending for the remainder of the financial year.
However, it has now refused to speed the bill through the assembly, arguing it has a legal obligation to examine the budget figures.
The speaker was left with no choice but to postpone Tuesday's debate on the budget bill.
If the bill is not passed before the summer recess, the permanent secretary can sign off on 95% of the spending.
The committee has asked to meet Mr Wilson on Wednesday to discuss the matter.