Hoax 999 calls 'cost £3m a year' in Northern Ireland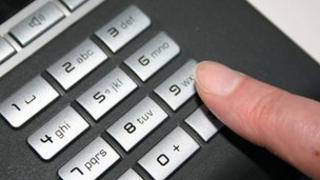 Hoax calls to the emergency services in Northern Ireland have cost an estimated £3.16m per year over the last three years, the health minister has said.
Edwin Poots said the hoaxes were a "massive drain" on the public purse.
His department has released new figures revealing details of more than 26,000 hoax and possible hoax calls.
They were made to the Northern Ireland Fire and Rescue Service (NIFRS) and the Northern Ireland Ambulance Service (NIAS) from 2009/10 to 2011/12.
Mr Poots said: "Hoax calls to our emergency services are totally abhorrent. The staggering £3m cost each year, which equates to almost £9,000 a day, has been completely wasted."
Criminal
The minister said those responsible were not only putting people's lives at risk, but they were wasting money which could have been used to fund other services.
"To put this into context, £3m could have been spent on more than 212,000 hours of domiciliary care, over 75,000 treatments by a physiotherapist in the community, around 250 coronary artery bypass grafts or over 5,000 weeks in a nursing home for an elderly person," Mr Poots explained.
Making a hoax 999 call is a criminal offence in Northern Ireland and those convicted can face a prison sentence and a fine of up to £5,000.
During the past three years, the NIFRS received 8,993 hoax calls, and as a result, firefighters were sent out to 2,578 non-existent emergencies.
Over the same period, ambulance staff received 17,399 possible hoax calls.
Highlighting the dangers, the health minister added: "No firefighter or ambulance service personnel can be in two places at once.
"If a crew is called out in response to a hoax call, that crew won't be around to attend a genuine emergency - a domestic fire, heart attack or serious road traffic collision."