Officers disciplined after Newtownards gay couple complain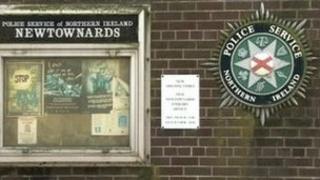 Eight police officers at a PSNI station in County Down station have been disciplined following a complaint to the Police Ombudsman's Office.
It concerned the way in which a string of homophobic crimes were investigated.
They were alleged to have failed to investigate properly attacks at a gay couple's Newtownards home in 2007/08.
The PSNI has agreed to pay damages and costs, apologised to the couple and said it is committed to ongoing training for its officers.
Vandalised
In total, there were 12 separate attacks on the home of Vincent Creelan and his partner over the period of a year.
Windows were broken, eggs were thrown the property and their car was vandalised.
Mr Creelan - who is a former police officer - said the PSNI's response to the attacks had made him feel "sick" and "vulnerable".
He added: "I'm not saying I should get special treatment because I was an ex-Peeler or because I was involved with the Gay Police Officers Association or whatever, but it made you realise there was something very, very wrong and it made you feel very, very vulnerable".
The officers from Newtownards station were disciplined in 2010 following the completion of the Police Ombudsman's inquiry.
The two men also took a separate civil action against the PSNI claiming they had been denied proper policing because of their sexual orientation.
It had been due to run for five days, but was settled on the steps of Laganside Courts in Belfast on Monday morning.
'Regret'
The PSNI said it had accepted the findings of the Police Ombudman's Office report into the issue in 2010 and has since acted on its recommendations.
It pointed out that there were "no findings of institutionalised homophobia in the concluding report".
PSNI Chief Superintendent Mark Hamilton said; "We deeply regret that our service fell short of the standard our communities rightly expect and deserve and lessons have been learned from this case.
"The PSNI takes reports of hate crime very seriously, we are continuously working to improve our response to these crimes and would urge victims to report incidents to us."