Michaela McAreavey jury visit murder scene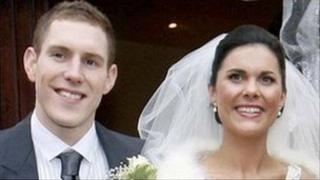 The jury in the Michaela McAreavey murder trial has visited the hotel in Mauritius where she was killed.
The 27-year-old County Tyrone teacher was found dead in her honeymoon suite at the Legends hotel on 10 January 2011.
The jury has been taken to various locations, including the McAreaveys' bedroom and the pool-side restaurant where they shared their last meal.
Avinash Treebhoowoon, 30, and Sandip Moneea, 42, deny murder.
On Tuesday, there was tight security at the hotel as the judge and nine-member jury arrived, followed by prosecution lawyers.
The accused also returned to the hotel under a police escort.
During that time, police were patrolling the beach near the hotel and members of the media, including the Mauritian press, were outside the complex.
The prosecution case has now been completed.
The defence team is expected to begin calling its witnesses on Thursday.