Marion Millican jury hears antique shotgun was never licensed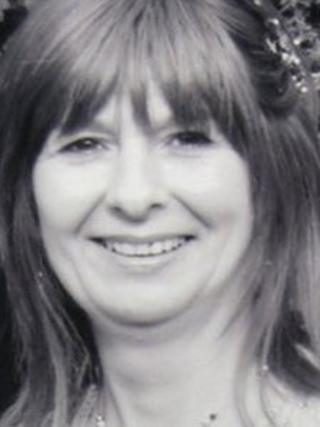 An antique gun used to kill a woman in Portstewart was never registered with police, a court has heard.
Fred McClenaghan, 49, of Broad Street in Magherafelt, denies murdering his former lover Marion Millican at the launderette where she worked.
A PSNI weapons expert told Antrim Crown Court the gun was never licensed to anyone in Northern Ireland.
The court has heard the Glasgow-made double-barrelled shotgun dates back as far as the late 19th century.
'Tragic accident'
On Tuesday, the court was told Mr McClenaghan remained silent during 14 interviews with police over two days, apart from one occasion when his solicitor read out a prepared statement on his behalf during the 11th interview.
In this statement, Mr McClenaghan said the shooting was a tragic accident, the jury was told.
In it, he said: "It was my intention to kill myself on 11 March and Marion would witness my suicide.
"I did not intend to kill Marion. I did not intend to harm Marion. Marion's death was an accident. I am sorry."
A defence lawyer asked one of the detectives who questioned Mr McClenaghan if he was aware the solicitor had "made representations" ahead of the police interviews, on the grounds that he had not been seen by a psychiatrist.
The detective said he was aware of the situation, and later revealed that Mr McClenaghan was initially also interviewed about the attempted murder of a second woman.
The trial continues.