Unclaimed £4.4m lottery ticket bought in County Down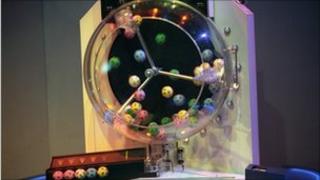 A National Lottery prize of more than £4m still has not been claimed in Northern Ireland more than two weeks after it was won.
The ticket was bought in County Down for the Lotto draw on Saturday, 2 June, and hit the jackpot of £4,392,003.
The winning numbers were 16, 18, 20, 25, 29, 34 and the bonus ball was 15.
The prize is due to expire at 17:30 GMT on 29 November, after which the money will go to the National Lottery Good Causes.
National Lottery operator Camelot is appealing for players to "search high up and low down" to find the ticket.
A spokesperson said: "We're desperate to find this mystery ticket-holder and unite them with their winnings.
"It really is a life-changer and we're urging everyone to check their old tickets again or look anywhere a missing ticket could be hiding."
Second win
There is another unclaimed prize of almost a quarter of a million pounds in prize money from a EuroMillions ticket also bought in County Down.
It was bought on Friday 14 May and is worth £242,957.
The numbers for the EuroMillions draw on that date were 1, 17, 31, 43 and 47, and the lucky stars were 2 and 3.
Whoever bought the second-tier winning ticket has until Wednesday 10 November to claim their prize.
After that date the prize money is handed over to the fund for Good Causes .
Anyone who believes they have the winning ticket for any of the draws within the 180-day deadline should call the National Lottery Line on 0845 910 0000.