Unesco enters Runkerry golf course row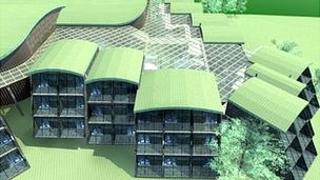 Unesco, the UN body in charge of heritage, has entered the row over the controversial golf course at Runkerry near the Giants Causeway.
It intends asking its World Heritage Committee to request the UK government to put a stop to the development until its potential impact has been assessed.
In February, NI's Department of Environment approved a planning application for an 18 hole golf course.
The National Trust is seeking a judicial review of the planning ruling.
The Giant's Causeway itself is the only world heritage site in Northern Ireland.
The course would include a 120-bedroom hotel at Runkerry on the north coast near the Causeway.
The plan promises a multi-million pound investment with a pledge of hundreds of jobs.
Last week, the National Trust faced criticism when it emerged it is trying to have the planning decision judicially reviewed by the courts.
'Too close'
Now it has emerged that the world heritage body Unesco has entered the row.
Experts at the organisation have expressed concern that the development is too close to the Causeway stones.
According to the agenda of its forthcoming annual meeting in St Petersburg, the World heritage Committee will consider a request by Unesco experts to ask the UK government to halt the Runkerry project.
Unesco is asking for the development to be stopped until it has been confirmed that it will have no impact on what it calls the outstanding universal value of the project.
According to Unesco, the UK government could still be invited to make its case in favour of the golf development, and no final decision will be made until next week's meeting.
It said: "According to the report, the proposed development lies within the buffer zone of the World Heritage property, a designated Distinctive Landscape Setting for which protective policies have been proposed in the draft Northern Area Plan.
"The World Heritage Centre and the Advisory Bodies recommend to the World Heritage Committee to request the state party to halt the development project until the potential impact of the proposed development on the Outstanding Universal Value of the World Heritage property has been assessed, and until it has been confirmed that no impact on Outstanding Universal Value will occur."
Northern Ireland Environment Minister Alex Attwood said he had examined all issues when giving the project the go-ahead.
"I made a decision in respect to the Runkerry application," he said.
"I made sure over a very long time and a very lengthy process that I complied with best practice when it came to all the issues around the decision."