Mike Scott's adventures of a Waterboy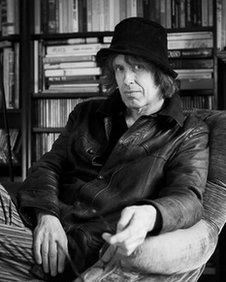 Mike Scott did not come from a musical family but when he was eight or nine he began to fall in love with records.
"Later I got crushes on girls, but first it was records," he said.
Music took over his life.
"I would hear a new song on the radio and fall in love with it and wouldn't be able to breathe until I'd heard it again," he recalls.
"It was something different from anything I'd ever experienced.
"I'd been interested in other things like football but once music hit, it just wouldn't leave me alone, I had to learn to sing, play, and that all followed out of my initial fascination."
He formed his first band when he was 15 in the living room of his home in the Scottish town of Ayr.
As an 18-year-old he went to university in Edinburgh because "it was expected of me".
After a year he dropped out of his English literature course and formed his first proper professional band, Another Pretty Face.
"It was the first band I had that made records - we made four singles," he said.
"After that I moved down to London and formed the Waterboys.
"We had a deal with a little label called Ensign and they asked us to move down.
"We spent a lot of time being nurtured by the record company during 1982, 83, 84, I probably didn't play very many shows but I did a lot of recording and demos."
In 1984 the band started playing live.
"We didn't have our first success until a year later," he said.
"The first record that got real notice was A Pagan Place.
"The third album, This is the Sea, was more of a breakthrough record."
As a child Mike's parents had moved around a lot so he was used to changing location every few years.
By 1985, after four years in London, he was ready for a change of scene.
"An Irish fiddler joined the Waterboys and he lived in Dublin - when we finished the tour he said 'why don't you come and stay for a week', so I did, and I loved it so much, I stayed for six years," he said.
After several years in Dublin, several members of the band moved to the west of Ireland, and Mike followed suit.
He ended up renting a splendid country house in Spiddal, County Galway.
It was here that the band recorded half of what would become the band's best-selling album, Fisherman's Blues and their next one, Room to Roam.
A tour accompanied each album.
So was it a time of heady excess as they travelled the world?
"The Waterboys has always been about music and I got into rock n roll because I love music," he said.
"I didn't get into it to take loads of drugs and to have loads of groupies."
His time in Ireland came to an end when band mate Steve Wickham left the group.
"I moved to New York and tried to put a new line up together but it didn't work out for me so I decided to go solo," he said.
"It felt like a good time to go solo. I toured with the album for two years and then I moved back to London and put together another band."
After releasing another solo album which "didn't do very well", Mike revived the Waterboys in 2000.
He tells me that as a songwriter he doesn't always write about himself.
"Some of my songs might be sparked by someone in my own life, but they're not word-for-word autobiographical," he said.
"Sometimes they are, but a lot of the time they're not. I'm an observer as well."
As band members changed so did his musical styles.
"I always liked a lot of different music," he said.
"I grew up listening to artists like Neil Young, David Bowie, the Beatles, Dylan, whose styles would change.
"I've always felt that's an appropriate way for artists to work so I've moved between different types of music myself as the mood and the interest takes me."
During his career which has spanned longer than three decades, he says he has only one regret.
"The one thing that I would have done differently is when we made our Fisherman's Blues record it would have made it a double or a triple album," he said.
"If I could go back in time in a tardis, that is what I would do."
Although he won a prestigious Ivor Novello award, and "cleaned-up" over seven years at the Hot Press Awards in Dublin, he admits the Waterboys haven't been a "big gong winning band".
"My first priority always was the music," he said.
"People would sometimes try and get me to do things like make this video or make this kind of music or do this particular TV show that would supposedly get more success for the band but if it didn't work for the music I wouldn't do it."
He has been back living in Dublin for the last four years but is hoping to spent a lot more time in New York where he has a little apartment.
Most bands nowadays connect with their fans through social networks such as Twitter.
He is no different but said he uses it primarily because he enjoys it.
The band's last album was An Appointment with Mr Yeats.
It features the poems of Irishman W B Yeats combined with his own music.
"He probably is my favourite poet," he said.
"It was something I'd been working on in my mind for decades and musically I think it's very much the classic Waterboys style but a different kind of project for me and I loved doing it.
"I like the subjects he writes about. I have sympathy with those. I like his perspective, his consciousness and I love most of all the way he uses language. He can be grave and powerful yet there's always a lightness to the way that the words fall off the tongue."
Another project that has consumed him in recent years was writing his autobiography.
"It was something that I always had in the back of my mind that I would do.
"I finally made the time to do it in 2008 and it took me about three years writing it."
The book chronicles his life up until 2000. So did he deliberately leave the door open for another book?
"That wasn't why I stopped at 2000," he tells me.
"It was more that the events since then, they haven't yet been hallowed by time.
"I think distance is important in writing a book that's a memoir because it's distance and hindsight that puts things in perspective and the stuff that has happened to me since 2000 isn't yet in that bookable perspective."
I had read that the film director Richard Curtis had named him as his idol.
"Sometimes people say to me who are your musical idols or heroes," he said.
"My heroes would be people like Mahatma Gandhi, Dalai Lama, Aung San Suu Kyi, who deal with oppression and brutality with grace and peace.
"Musicians are just regular human beings that might make great music."
Among those he lists in that category are the Beatles, Bob Dylan, David Bowie and The Stones.
The current obsession with celebrity saddens him.
"It has always been with us but in our current culture it has become far too prevalent," he laments.
"Because of studio trickery and video techniques lots of people who actually don't have anything to say or don't have any talent, charisma or voice can become among the most famous performers and singers in the world."
He has spent part of this year touring, and has played in Belfast many times.
"I always found the Belfast audience nicely combustable," he said.
"They'd be an emotive audience that would respond and I've had some wonderful moments on stage here.
"The first time was in 1984, we played in a leisure centre for I think two nights, opening for the Pretenders. Back in 1986 we played in the Ulster Hall. I remember that as a great, great show.
"I think that was the show where I learnt that the Belfast audiences were one of the best in the world."