Event previews Derry City of Culture year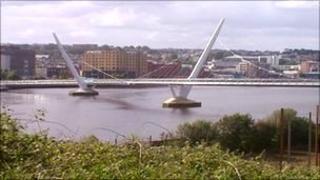 UK government ministers have been given a preview of events to mark Derry-Londonderry's year as UK City of Culture.
The event was hosted by Northern Ireland Minister of State Hugo Swire and Culture Minister Ed Vaizey in the House of Lords.
Derry was selected as the UK's first City of Culture two years ago and will hold the title next year.
Mr Swire said the city would be making history.
Speaking to guests, including First Minister Peter Robinson and Deputy First Minister Martin McGuinness, Mr Swire paid tribute to the city.
"Throughout what has been an eventful history, Derry has always retained the fortitude, optimism and vibrancy that make it such as special place, whether you regard it as Londonderry, the Maiden City, or Derry, rich in Irish culture and tradition," he said.
"Our task, working together, is to ensure that it provides a lasting legacy for future generations; culturally, through the many exciting events that are planned for next year, economically, through increased tourism, jobs and regeneration, and in relationships, by bringing people together.
"Derry-Londonderry City of Culture 2013 will be a great showcase for the city, for Northern Ireland and for the UK."