Senior PSNI officer awarded silver fáinne for Irish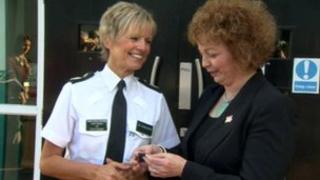 PSNI Deputy Chief Constable Judith Gillespie has been awarded a silver fáinne for passing her Irish language exams.
She was given the badge by Sinn Fein Culture Minister Carál Ní Chuilín MLA.
Over two hundred officers and staff from the PSNI have expressed an interest in learning the Irish language.
Ms Ní Chuilín said the PSNI's commitment to the scheme was "very very significant".
DCC Gillespie had been taking part in the Líofa programme which is sponsored by the department of culture.
She passed her exams with flying colours scoring a very respectable 96%.
A silver fáinne means Ms Gillespie now has conversational Irish.
Respect
The culture minister said: "We set a target for 1000 people to complete the Líofa programme by 2015 and in fairness to the PSNI they have well over 200 people signed up which is very very significant.
"It is also significant that the PSNI as a body promoted Líofa and have put a value on the programme.
"I appreciate that respect and people in nationalist and republican areas will appreciate that respect.
"This is a big day for Judith and we should congratulate her."
DCC Judith Gillespie explained why she chose to study Irish: "I think it's about respect and showing some effort to understand another culture.
"It's not people who have any background in Irish, it's people who are complete novices like me who have taken up the challenge because they are genuinely interested.
"Irish is a tough language, there is no doubt about it, but it's like no other language. It's beautiful when it's spoken well and it's lovely now to be able to listen to an Irish poem and understand it."
"I don't know if I'll ever become Líofa but I'll certainly have a good go at it."