Green Party MLA says UN body 'must have their say'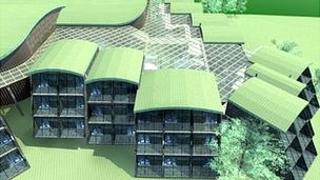 The leader of Northern Ireland's Green Party has said the UN's heritage organisation, UNESCO, should have been consulted from the start of plans for a golf resort near the Giants Causeway.
On Tuesday, UNESCO said it intends asking the UK government to stop any building plans until the potential impact could be assessed.
The planning application was approved earlier this year.
But MLA Steven Agnew says UNESCO must have their say.
"The fact that this application has been in process for 12 years and no one thought to consult with UNESCO, I find incredible.
"It's a huge mistake on the part of a number of ministers who have had the application in front of them," he said.
The Giant's Causeway is the only world heritage site in Northern Ireland.
The proposed course would include a 120-bedroom hotel at Runkerry on the north coast near the Causeway.
The plan promises a multi-million pound investment with a pledge of hundreds of jobs.
However, the world heritage body UNESCO has expressed concern that the development is too close to the Causeway stones.
'Universal value'
It has asked the World Heritage Committee to ask the UK government to halt the Runkerry project.
The request is on the agenda of the World Heritage Committee's forthcoming annual meeting in St Petersburg.
However, MLA Steven Agnew says that while the UK government can recommend the Northern Ireland Executive to halt the project, it can not insist that the Executive does so.
UNESCO is asking for the development to be stopped until it has been confirmed that it will have no impact on what it calls the outstanding universal value of the project.
Last week, the National Trust faced criticism when it emerged it is trying to have the planning decision judicially reviewed by the courts.
Northern Ireland Environment Minister Alex Attwood said he had examined all issues when giving the project the go-ahead.
"I made a decision in respect to the Runkerry application," he said.
"I made sure over a very long time and a very lengthy process that I complied with best practice when it came to all the issues around the decision."
On Wednesday, a leading tourism expert said the proposed golf resort would be a boost for the economy.
Speaking ahead of an international tourism conference, Professor Stephen Boyd from the University of Ulster's Business School said a new golf course would benefit the whole area.
"Developments like these are necessary if we are going to grow our tourism infrastructure and grow our tourism economy and I hope that UNESCO can see this," he said.
"There's plenty of evidence across the world where there are many world heritage sites that are close to large modern development projects and they've not been stopped."