Northern Ireland unemployment rises again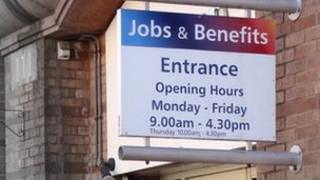 Unemployment in Northern Ireland has risen again, on both official measures.
According to the Labour Force Survey, unemployment between February and April rose by 0.6% to 7.1%, a figure below the UK average and very slightly down on the same time last year.
However, the number of people claiming benefits in May climbed by 300 to 62,600. The claimant rate of 6.9% is the second highest in the UK.
The Quarterly Employment Survey found there were over 690,000 jobs in March.
This survey, which measures the number of people working, showed a decrease of more than 7,500 jobs in a year.
This measure of employment has now decreased in 14 of the last 15 quarters, since its peak in 2008.
Enterprise minister Arlene Foster said: "Whilst it is apparent that wider economic issues are continuing to put pressure on the labour market in Northern Ireland, our current unemployment rate of 7.1% still compares favourably to the equivalent rates for the UK (8.2%), European Union (10.9%) and Republic of Ireland (14.5%)."