Northern Ireland budget bill will be fast-tracked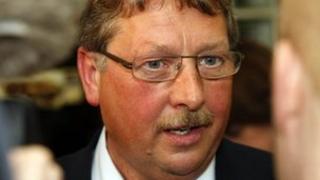 The finance committee has agreed to fast-track the budget bill after a row over a delay in the delivery of figures.
Earlier, Finance Minister Sammy Wilson accused some members of the committee of political grandstanding over the issue.
The row centred on a failure on behalf of Mr Wilson's department to deliver budget figures to the committee.
The committee then refused to fast track the budget, leaving it in limbo.
During a session of the committee on Wednesday, the finance minister said his department had served the committee well, handing over 82% of papers within the timescales set by the members.
Mr Wilson said this compared favourably with other committees and that his department had responded on Wednesday morning to members' questions that were tabled only on Tuesday.
"I want to put it on record we recognise the importance of the committee and always seek to service the committee as efficiently as possible," he said.
He added that he was therefore a "bit disappointed" at the way the committee had reacted to "a genuine mistake" that was remedied quickly.
The minister hoped that "political grandstanding" by some would not persist and they could get on with business, but acknowledged "that's the nature of the game."
The minister has been at loggerheads with his committee over delays in his giving them budget figures for scrutiny - and in response the committee had to date refused to agree to fast-tracking the bill before the summer recess.
'Out of the norm'
Conor Murphy, the committee chair, acknowledged that the department had been very cooperative in the past. He said the committee had appreciated the frankness and that is why their recent experience was "so out of the norm."
Mr Murphy said the committee took its scrutiny role very seriously and it was on that basis that it granted accelerated passage.
Roy Beggs, Ulster Unionist, quoted standing orders at the minister and the importance of the committee's function.
The minister warned him the route he was going down was not "very profitable".
Mr Wilson said the papers were delivered by officials more than a week ago.
He then accused Mr Beggs of "chuntering on" about the the issue in public and hoped he would not continue to do so.