The Princess and the Poitín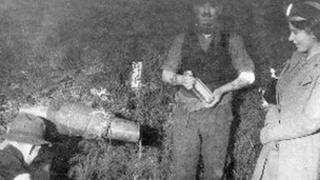 March 1946... and the young Princess Elizabeth is about to get up close and personal with a little mountain dew.
Not that she took a drop of it... but when young policemen offer one a present of a bottle of poitín (illegally brewed Irish spirits), is it rude for one to refuse?
The young recruits wanted to give their royal visitor a day to remember.
She inspected them at a passing out parade and she watched them being put through their paces in the gym.
But they wanted to treat her to a taste of the Ireland of the bog and the mountain and the poitín still.
So they built their own mock-up of an illegal alcohol still and led Princess Elizabeth to an innocent looking turf stack which was not what it seemed.
Then, in a spontaneous gesture, they presented the 19-year-old princess with a bottle of poitín.
Charles Friel remembers hearing the story from his father, a sergeant instructor, who was in on the plan.
"My father and the recruits had all dressed up in very old clothes and looked like vagabonds and rough guys distilling this poitín," he explained.
"For years afterwards he kept the jumper that was full of holes and wore it while he was gardening. My mother used to give off to him about this and he'd say: 'Well, if it was good enough for the Princess, it is good enough for me to garden in."
But the high jinks with the poitín bottle did not end there.
The Princess and the poitín caused a political stir too. Mr Friel said a young Ian Paisley was in the crowd that day and he had enough influence to get the matter raised at Stormont.
"All sorts of folk got rockets: Why did this happen, how did it happen, why did they distill illicit poitín and why was the Princess embarrassed into being offered some," Mr Friel explained.
"The row went on for quite a while."
After her brush with a bottle of poitín, Princess Elizabeth met veterans from World War I and boarded HMS Superb in Belfast.
She would be just 20 years old the following month and would marry Prince Philip the following year.
There will be live coverage of the Queen's Jubilee Visit to Northern Ireland on BBC2 NI from 14:45 BST on 27 June. Coverage will also be streamed live online.